Bryant's Semi-Sweet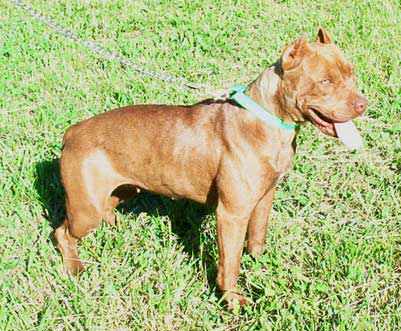 Semi-Sweet's Stats
Female
Born: 12/19/2003
65 lbs
19" tall at withers
UKC & ADBA Registered
Purple Ribbon Bred
Semi-Sweet is our best catch-dog. She has an extremely high prey drive and is great with people. Excellent hog dog!!! Nearly anyone can walk her when we are out and she is fine and friendly as can be. But on the chain in the yard it is a totally different situation. She rules that area, so most strangers keep a distance. The other dogs in the yard know that she is in charge out here. With us she is the biggest baby in the world! A very slobbery baby...
Semi also has a strange passion for chewing trees as well as her waterbucket. She will chew on a tree until there is nothing left but a stump. We used to give her drinking water to her in a 5 gallon bucket. But we soon learned that she would rather carry the bucket around chewing big holes in it, than to drink out of the dang thing! She pours it out instantly after it is given to her. She picks it up, prances around with it in front of every dog in the yard to show off. The solution was a water bucket made out of cement. She will not chew on the cement (Thank God!) so this fixed the problem because now she cannot dump her water out. She also chews up every dog house that we build for her. All of her pups do the same. Semi sure is something else! She is a very unique dog and I wouldn't ever sell her to anyone for any price. By the way, as I mentioned above, she does get exercised often in our 10 acre yard so these weird things she does is not out of boredom, just out of strangeness...
Her brute strength amazes me, she can be SO fierce and full of drive. Yet she is very lovable to our family and treats our children as if they were her own to look out for. She is a great family dog. Great hunting dog. Heck she's an all-around great dog!!! I feel so lucky to have had a chance to own her, she is definitely a once in a lifetime dog.