One of the best characteristics of the pit bull breed, is the extreme loyalty and devotion that they have for their family. A pit bull will protect and try to please its owner at all costs. We ARE in favor of working pit bulls in a sport (like hog hunting) where they can test and prove themselves legally. This keeps GAMENESS alive in the breed. The desire to keep fighting when a dog is hurt, tired and losing. This combined with the willingness to protect is the most important quality that a pitbull can have, and that is what we breed for. Pit bulls are an athletic breed of dog and they enjoy having some kind of outlet for their energy... because they have LOTS of it!
Our pit bulls are fearless warriors while hunting, and fearless guard dogs when it comes to protecting their family! You will never be able to love another breed of dog as much as you did before owning a pit bull... No other dog breed even comes close to having all the great qualities that a pit bull has to offer, wrapped up in a tough yet lovable package! Contrary to what some people say, pit bulls love children. Our kids have been raised up with pit bulls since birth. Never once have I feared for my kids safety, in fact they are much safer with a pit bull watching over them (of course I watch my kids too, kids and dogs of any breed should be supervised). Our dogs would give their lives to protect our children as if they were their own and I feel my childrens lives have been enriched because they have these dogs in their life.
Any pit bull from us will be lovable and kind to you, your family, and those you have taken the time to socialize him/her with... but these dogs are NOT going to be kind to anyone trying to hurt you. I know this first hand, because a weird man tried to attack me (Jennifer Bryant) in the woods one day... My pit bull acted beautifully! He told me that he saw a pretty girl and wanted to "get to know me better". Needless to say, he did not succeed with his plan, because my pit bull meant business, she wasn't going to let ANYONE hurt me! Once I was able to get out of the woods, the man did try to follow me back down the main road in his car... again my pit bull performed beautifully! He could not get to me, she sensed the danger and knew to act on it. I loved her before this happened, but we now have an even greater and special bond now because of this experience.
Most people would stop going in the woods alone after something like that, but I LOVE nature too much to ever stop going in the woods and my dogs love it too. Some people prey on women who hike alone, but I now know without a doubt, that my pit bull will protect me if I should need it and I feel safe knowing that I have a friend with me that would protect me with their life. These days I also take a gun with me just to even up the odds in case someone tries to shoot me or my dog... I would protect my dog with my life just as they would do for me! There is no other love that comes close to it, it is unconditional love. In my opinion, having a dog for a friend is much better than having a human as a friend. A dog will never judge you and they have no other motive for your friendship other than receiving love back from you, and they love you for who you are! No matter what.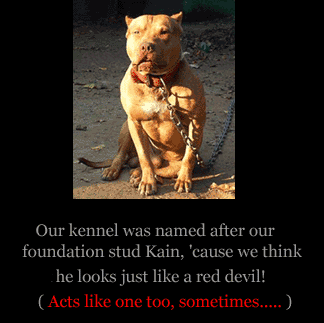 We have produced red nose pit bulls as small as 40 lbs. and as large as 80 lbs. People who keep these dogs as pets and who do not work them, tend to have heavier dogs. However, the majority of the pits that we have produced are in the 45-65 lb. range with the males being on the higher end of that range and the females weighing less. We like a nice, medium sized pit bull, with a little leg on them but NOT so tall that they look like a horse. We don't like them tall and scrawny but also do not like them short and fat either... we are striving to obtain our own kind of pit bull perfection! Our pit bulls are thick enough to have excellent bone structure but not so thick that they resemble another breed of dog. We do not breed bullies... We like for our pit bulls to be able to jump into the back of a truck if you know what I mean. We want to stress that we are NOT breeding for size or for color. We are striving to achieve the total package, but drive and structure interest us most because we work our red nose pit bulls.
Temperment is very important because all of our pit bulls must be trusted around our children. We also use them for hunting wild boar. Temperment is also important for hunting dogs because they must have the ability to do their job while being easy to handle by any hunter. Our goal is to produce, quality, healthy, even-tempered red nose pit bulls with the ability to do it all!
We try our best to sell our red nose pit bull puppies, only to individuals or families willing to make a lifetime commitment to one of our dogs. We sincerely believe that the "American Pit Bull Terrier" is NOT the dog for everyone. They are a dog for an individual or family willing to make a lifetime commitment to these animals in regards to its care, early puppy socialization, and introduction to "all" facets of life. Pit Bulls require special owners who are VERY responsible!
Pitbulls should never be allowed to run loose around your neighborhood unsupervised... because just like children, a pit bull will get into serious trouble if not properly looked after. Think about it, would you allow your children to run around doing whatever they want, with whoever they want, and expect them to be good all the time? Dogs are the same way, you must teach them right from wrong if you want them to be good dogs! Even if you live in a rural area, it's still a good idea to watch your pit bull. It doesn't really matter what the breed of dog is! If you have a dog that is medium sized or larger, you need to keep an eye on them so that you keep them, as well as others, safe. If you love your dogs, you owe that to them! Besides, what if someone were to come along and be mean to your dog while it's running around with no one watching it? Keeping an eye on your dog is what is best for him/her!
We have over 10 acres that we live on about 1 hour north of Atlanta, Georgia. I take the dogs on hikes regularly in the mountains near our home. Our kids, as well as us adults, are committed to giving our pit bulls the attention and exercise that they need. Pit bulls are a high energy dog breed and they need exercise to keep them in good health, both mentally and physically! Most behavioral problems in pit bulls, stem from boredom.
Our pitbulls do not stay on chains (you might see chains on our dogs in some of the older photos on this website). Our dogs stay in 10 X 10 kennels giving them plenty of room for comfort. I only mention this because we sometimes get contacted by nut-jobs that want to preach about our dogs being on chains. I currently have one dog that is on a chain and that is because he actually prefers the chain to being in a kennel. He loves the anticipation of a cat cruising by, and cries constantly if you put him in a kennel. If being on a chain makes him happy, then I am happy.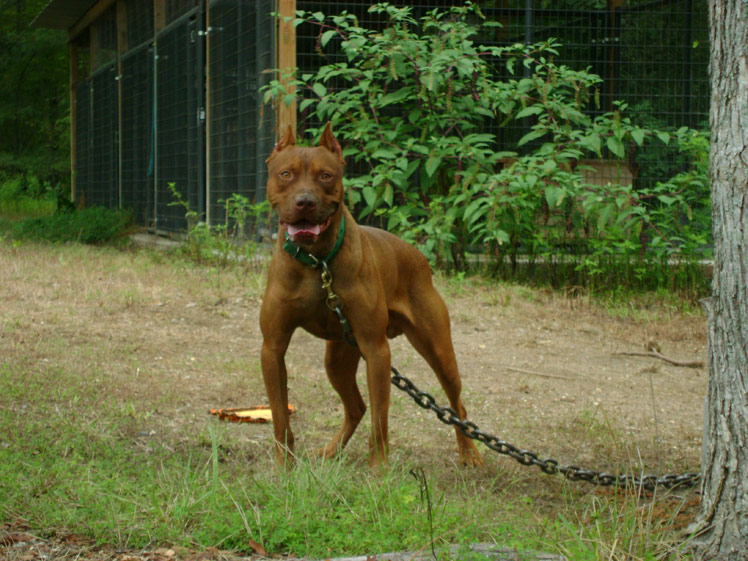 Though honestly, I really have no problems with people having their dog on a chain as long as it isn't overly heavy for their frame (you want the snap and chain heavy duty enough where your pit bull won't break loose, but not so heavy that it weighs them down hurting their back and shoulders) and as long as the dog receives time off the chain when his owners are at home. They can't be on the dang thing all the time, that isn't right! But I mostly understand in situations where a person does not own their own home and don't have the money to invest in kennels or fences, AND their landlord will not allow them to keep the dogs inside their home either... That was our situation a few years back, so I completely understand. In that case, a person is being a RESPONSIBLE pit bull owner by placing their dog ON A CHAIN, so that he doesn't rome free, unsupervised, and getting into trouble! Some folks just go overboard on the chain issue and don't fully think it through as to why some dog lovers might actually NEED to secure their dog by using a chain.
We are hobby breeders and only have a few litters of red nose pit bull puppies for sale each year. Our females are never bred before the age of 18 months old and are retired from breeding early in life. What you get when you buy a pit bull from us, is a quality red nose pit bull puppy, with great bloodlines, raised by people who care about the pit bull breed and have the experience to properly care for and understand a growing, pit bull puppy's needs.
We take the time to give our red nose pit bull puppies the socialization they need to get a good start in life. Our puppies learn to follow commands at an early age because I take the entire litter on walks around our property as soon as they are able to walk good enough. I feel this socializes them by getting them used to being around people, but it also gives them time to play out in nature and allows them to use their curiosity to learn about the world around them. I also get to tell them "No!" quite often, when they poke their noses into places they shouldn't be, so they learn what that command means before they go home with you. Our kids also go on these walks quite often, so the puppies get used to children at the earliest age possible. Play is how puppy's learn!
I get a lot of questions regarding what age a pit bull puppy will reach its full size, so just to inform those who don't know, most pit bull puppies usually reach their maximum height at 1 year old and keep widening out in the chest, head, and rear area until they reach full maturity around 2-3 years old. We are appalled by some of the pit bulls that other breeders are producing, particularly short, fat, pit bulls that cannot even jump because their proportions are way out of whack and aren't functional. To me, some of these dogs do not even resemble a pit bull. We love the traditional red nose pit bull and we are trying to preserve, and improve upon, the red nose strain of the American Pit Bull Terrier. Our pit bulls are thick enough to have excellent bone structure but not so thick that they resemble another breed of dog. The traditional American Pit Bull Terrier was bred for performance and we strive to maintain those standards through working ability and by passing on our pit bulls good genetics for having great conformation, structural balance, power, and speed.
Pit Bulls that are extremely large, or way too short, usually do not have the stamina or athletic ability that a working pit bull needs to have. We feel that a pit bull can look tough WHILE remaining functional! We are breeding for a well-rounded red nose pit bull with a high prey drive and AMAZING athletic ability! Our pit bulls have (OFRN) Old Family Red Nose pit bull bloodlines that are crossed with various game pit bull bloodlines giving them a medium size build and an extremely high prey drive. Excellent temperment, and nice head and bone structure is just a bonus! The high prey drive in our pit bulls is geared toward animals for hog hunting purposes, never toward people. However, a great pit bull who does it's job correctly, will protect it's loved ones from bad people too. A pit bull that doesn't protect isn't much of a dog in my opinion.
We feel that some breeders are just contributing to the problem with homeless pits, especially inexperienced ones that are breeding low quality animals. We feel that by breeding high quality pit bulls, we are helping to ensure the pit bull breed's future. All of our adult dogs have been trained to hunt wild boar here in the North Georgia mountains. So all of our red nose pit bulls grow up to be working dogs and are PROVEN to have game and drive. If they don't have the drive, they don't get bred here. Hog hunting is truly the best and only legal way (in my opinion), to test a pit bull's drive and gameness in today's world.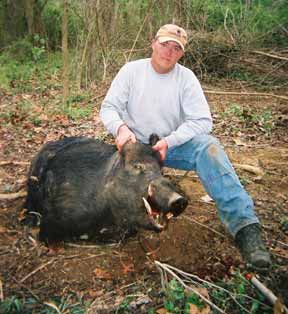 The majority of our OFRN bloodlines come from these great red nose pit bulls:
Wilder's Red Apache
Hemphill's Wilder's Geronimo II
Hempill's Geronimo
Thebeau's Red Hot Shredder
Camelot's Rajun Cajun
Kubar's Golden Bud
Pool's Max
Pritt's Red Cochise
High's Red Amber
High's Red Roscoe
Every pit bull we have ever put on a hog, has done great with hunting wild boar. They hit hard and stay on for the ride! They are very athletic AND intelligent, so they can be used for a variety of purposes. Our pit bulls are smart and can be easily trained for whatever type of work that you want them to do, you just have to make the effort to teach them!
Though our bloodlines are mostly OFRN. Outcrosses Include:
Sorrells
Crenshaw
Loposay
Carver
Pit Bulls are extremely loyal and loving dogs. No other breed has the tenacity, loyalty, and dedication that the American Pit Bull Terrier has. Most people don't realize how much love they have to give until they have owned a pit bull for themselves. Many that do never go back to owning any other breed of dog because other breeds cannot live up to their expectations! Pit bulls are truly spectacular animals and do not deserve the bad reputation that many have given to them. Their bad behavior is usually due to irresponsible owners who will not keep them contained properly or who have not parented them correctly from the beginning. Not because they are evil dogs!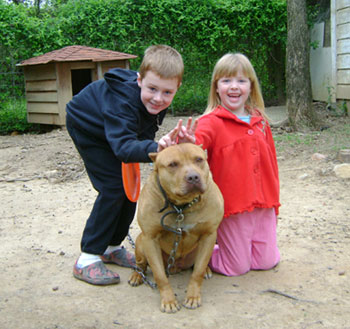 All of our pit bulls are good with people or we would not own them. We look out for the best interest of our kids and would NEVER put them in any kind of danger. If anything... we feel our kids are SAFER having pit bulls around! We only keep a few dogs in our yard so that we can give them the attention and socialization that they deserve. Our dogs are smart enough to know when to be protective and to take action but they are also very lovable to those they trust. In other words they are very protective, but not crazy. They are very intelligent dogs and know how to use their heads! Our pit bulls are extremely gentle and play with our kids daily.
We feel that our pit bulls have the beauty and drive that define the Red Nose American Pit Bull Terrier! If you want to bash on our dogs or are a part of some insane animal rights group such as PETA that believes in any kind of breed prejudice, then take yourself ELSEWHERE. However, if you are a pit bull lover who believes as we do, then by all means, stay and look around awhile! We know you will enjoy our website because we have some of the finest Old Family Red Nose Pit Bulls to be found ANYWHERE.
We Do Not Sell/Use Our Dogs for Illegal Purposes!
Shipping available to any where in the USA for $450 including:
Alabama
Alaska
Arizona
Arkansas
California
Colorado
Connecticut
Delaware
Florida
Georgia
Hawaii
Idaho

Illinois
Indiana
Iowa
Kansas
Kentucky
Louisiana
Maine
Maryland
Massachusetts
Michigan
Minnesota
Mississippi
Missouri

Montana
Nebraska
Nevada
New Hampshire
New Jersey
New Mexico
New York
North Carolina
North Dakota
Ohio
Oklahoma
Oregon
Pennsylvania

Rhode Island
South Carolina
South Dakota
Tennessee
Texas
Utah
Vermont
Virginia
Washington
West Virginia
Wisconsin
Wyoming